Articles: From Trafalgar to Tripoli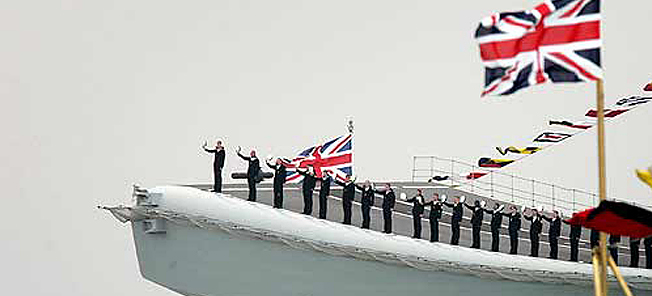 All in a day's work
This article first appeared in the Royal Navy publication, 'Logistic Matters'.
When information is scant, time is short and lives are at risk, there is only one way to rise to a challenge - with faith in your team, confidence in your experience and a determination to achieve excellence. This approach was never more important when MLS - Multinational Logistic Services - were asked to assist the Royal Navy in the evacuation of citizens from Libya at the start of the recent conflict.
As the world's leading naval husbanding contractor, MLS has an extensive track record of supplying a comprehensive range of services to the Royal Navy and other leading navies of the world. The Libya project not only required all the skills and experience within the MLS team, it brought with it a demand for a high level of sensitivity and an acute sense of urgency.
Supplying an extensive and diverse range of logistics services required for the civilian evacuees, the provision of nappies and sterilization equipment was as vital as the supply of basic essentials such as food, blankets and water, with MLS ensuring all items were supplied in a matter of hours.
Since its inception in 1998, MLS has been serving the needs of military and has more than 170 years combined experience within its core team. Today, it operates globally from hubs in the Americas, North Europe, Mediterranean, South West Asia, and South East Asia.
Not all projects are implemented in a war zone or undertaken with only a few hours notice. Successfully servicing 169 ships at anchor and transporting 25,000 people in water taxis every day for the duration of the Trafalgar 200 celebrations in 2005 was a challenge with a very different remit.
Meticulous schedules and contingencies were planned months in advance to ensure efficiency in the execution of a myriad of services including the provision of port agency services to 169 ships in Portsmouth. The complexity, magnitude, and scope of the operation involved MLS chartering a host of assets such as grey, black, and fresh water tankers, passenger launches, garbage skips and pontoons, buses, vans, and cars.
For the duration of the event, MLS put together a multilingual team from around the world to work hand in hand with the Royal Navy Liaison Officers but to the national and foreign ships hosted by the MoD UK, it was one team with one mission.
"MLS delivered exceptional support throughout every phase of this project," commented the Royal Navy management team for Trafalgar 200. "This manifested itself at every level, from the mundane to the top-level strategic; crucially the contractor was able to demonstrate the same dynamic and attentive response at both extremes, whether arranging a birthday cake or a tanker of fuel cleared to operate under license in a declared marine conservation area. Not only were such problems overcome, they appeared to have been defeated well within the MLS's corporate capacity."
The challenges presented in all projects undertaken for navies across the world are great and the expectations are high but it is essential that standards at MLS are higher in order to successfully convert daunting tasks into a matter of routine.
When, in 2006, Allied Forces required a base camp to be used by 1,600 Romanian and American military forces, MLS were asked to build and manage the project. Charged with establishing a complete and real 'life support' area for soldiers in a remote area of Romania on the border with Ukraine, MLS were essentially asked to build a camp with all the facilities expected of a well-serviced town.
Having built 7.2 km of road through the mountains to give access to the camp, MLS provided housing, food, drinking water, sewage and garbage collection, electricity, telecomunications including an Internet cafe, sport and entertainment areas, barber shop, laundry facilities and satellite TV for the entire camp.
During that same year, MLS was asked by CTF-53 to support a U.S. Navy Logistic Team tasked with the planning and execution of the evacuation of 14,626 American citizens from Lebanon to Cyprus during hostilities between Israel and the Lebanese Hezbollah. Within 48 hours, critical humanitarian supplies and services were sourced including transportation and sustainment packages, cots and shower units, blankets and toiletries, baby food, bottle water and meals for all 14,626 American citizen evacuees.
As a result of the efforts, MLS, together with the other support teams, was awarded the Stanley R. Arthur Award for Logistics Excellence, an award bestowed annually to individuals and teams who epitomise logistics professionalism and excellence.
From the loading of explosive cargo at Belfast to a medical evacuation in Brindisi; from providing generators at Barrow in Furness to discharging vehicles in Beaconcour; from arranging fenders at Dublin to supplying food at Djibouti; from prompt last mile delivery of spares in Souda to buses in Simonstown, MLS projects are as diverse as they are challenging - a global team with specialist skills, experience, and excellence are essential to fulfil the needs of the each project.
MLS is proud to serve the Royal Navy and is committed to continuous improvement in providing a highly skilled, loyal, motivated workforce dedicated to achieving outstanding results. No matter what the challenge is, the attitude within MLS remains the same - it's all in a day's work.