Articles: Africa. Action!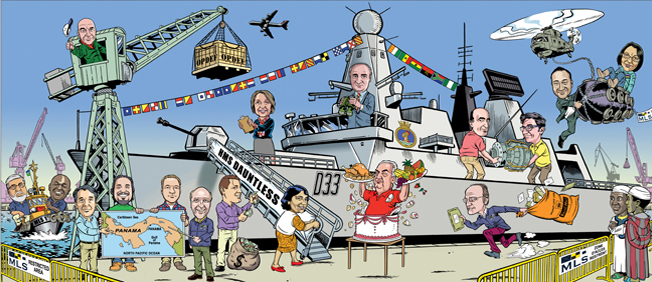 Serving a continent from tip to toe
This article first appeared in the Royal Navy publication, 'Logistics Matters' in 2013.
From Casablanca to Cape Town and Praia to Port Victoria, it has been a busy time in Africa for the Royal Navy in recent years and the pressure has been on MLS to find the answers to some challenging logistical questions.
From food to fenders, post to parts, dollars to dinars, the remit has been the same for all 1,038 days in port - to deliver what was needed, when it was needed, to whomever needed it!
That may sound fairly straightforward but the sheer vastness, and diverse nature, of the African continent has a habit of presenting unique and surprising challenges designed to turn simple tasks into a labyrinth of trials and tribulations.
Fortunately, MLS likes nothing more than overcoming obstacles in order to surpass the expectations of their customer. So, with the benefit of years of experience, and a depth of knowledge equal to its breadth, MLS took on the African challenge and navigated its way through a myriad of different languages, currencies and cultures, together with varying levels of facilities and fundamentals, to deliver on time, time and time again.
Each port visit since 2009, 233 in total, has confirmed only one thing for MLS - to expect the unexpected. That way, we're prepared for anything so, with HMS Dauntless now home safe and sound, MLS is ready for the next challenge, whatever and wherever it may be.